10/31 UPDATE***The Nashville leg of the exhibition will be at Belmont University. The exhibitions I have seen on their site look really interestings. This won't be until Fall 2014, so all work is going to come back home first. I have some images to post from the opening at Kresge Gallery. A link to the PDF catalog coming soon.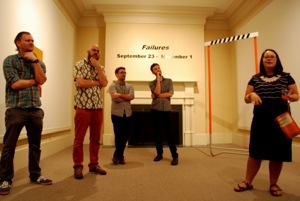 I love this picture! All the guys have the same posture and pose.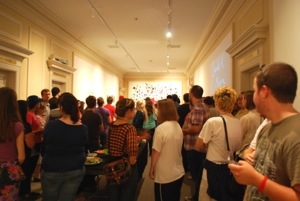 It has taken me weeks to bring myself to publish this post about the first installation of my Unfinished Sewing Project. I fell into a black hole of uncertainty and self-doubt in presenting this project, although I think it is the best thing I've probably ever done. It's very different from work I've shared with an audience in the past and it's new for me. Even with a lot of built-in emotional safety nets (the fact that I collaborated with friends and family, the theme of the exhibition, encouragement from everyone I talked to about the project, etc.) I still felt PANIC. This has all mellowed out now because I think the show looks great and the project looks great in it. That's just the whole truth – and why it's taken me awhile to get these images up. I'm so glad Mark came with to install because the photos I took were embarrassing. It was a little dark since the gallery was closed, so please excuse the fuzzy.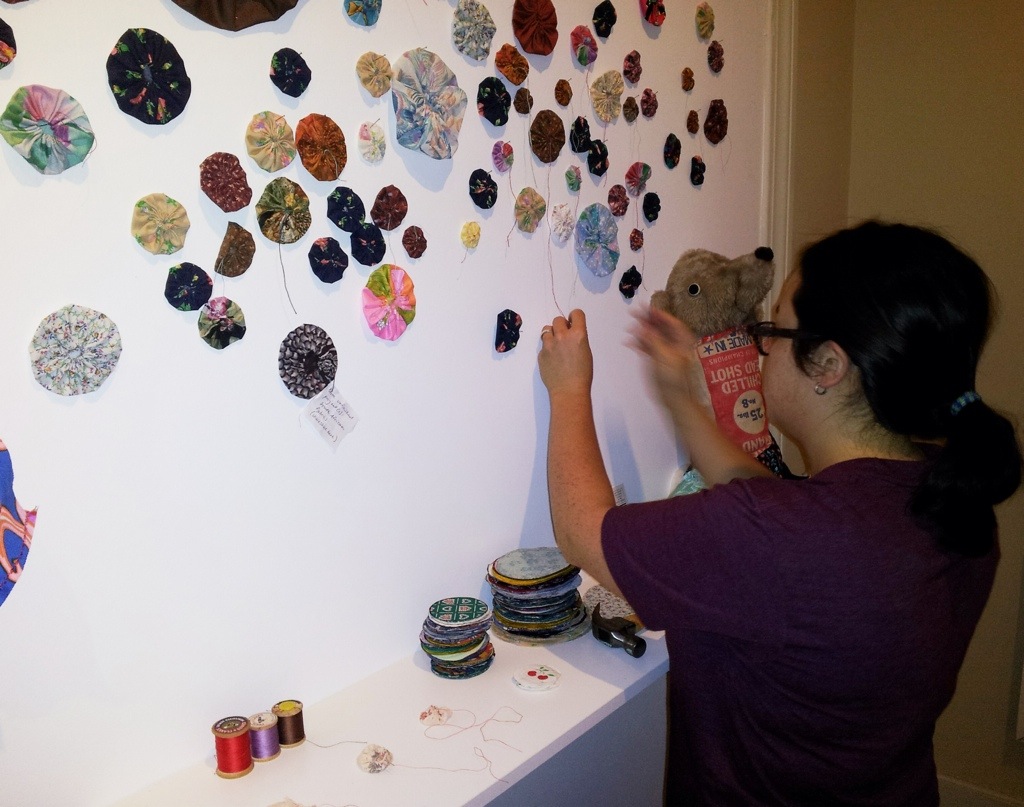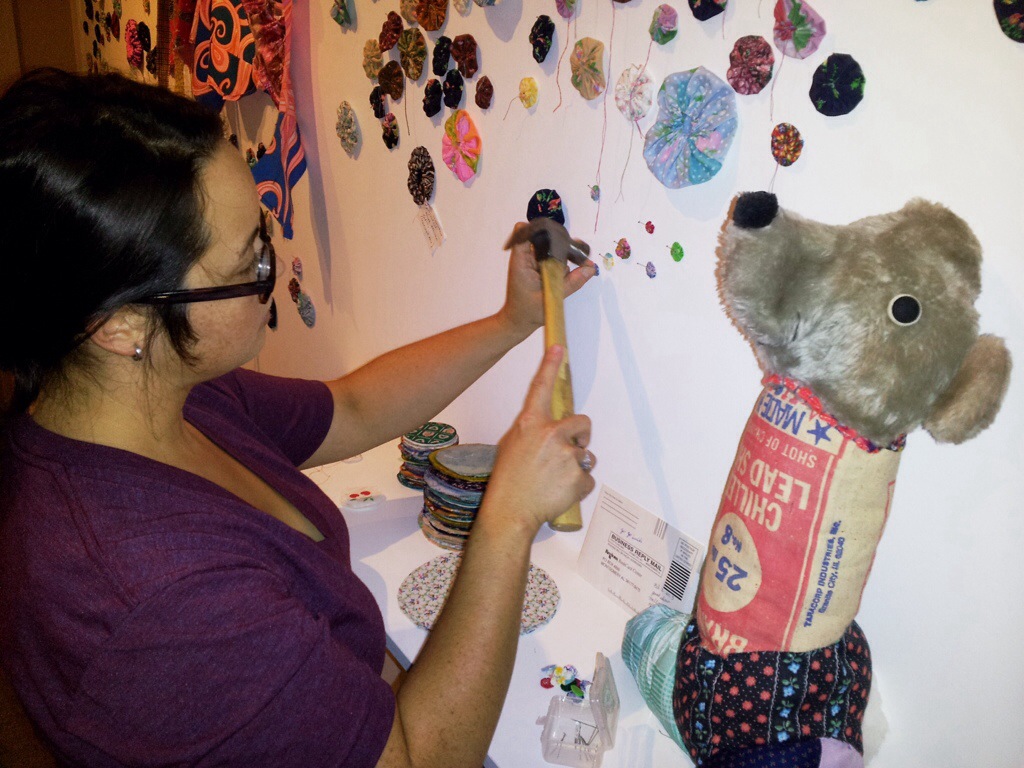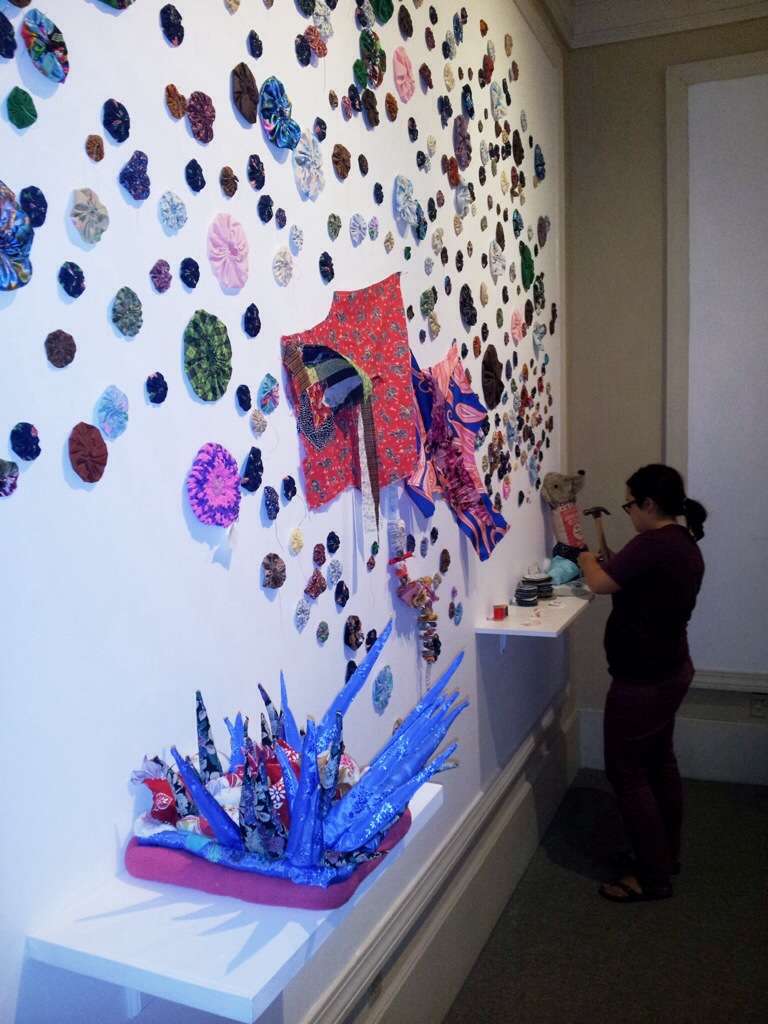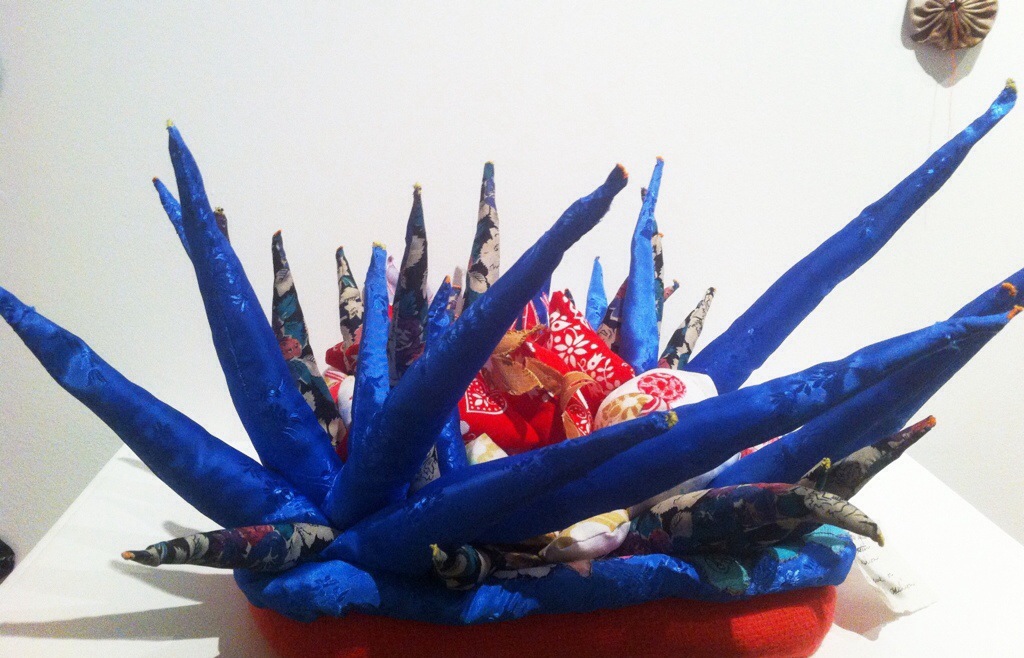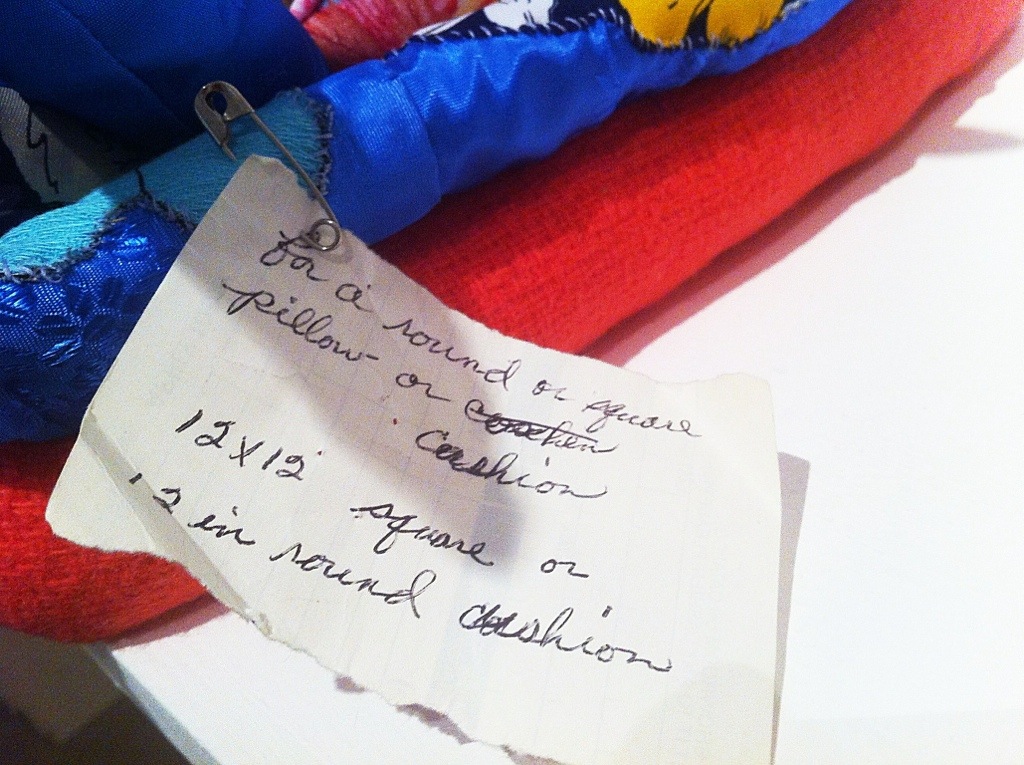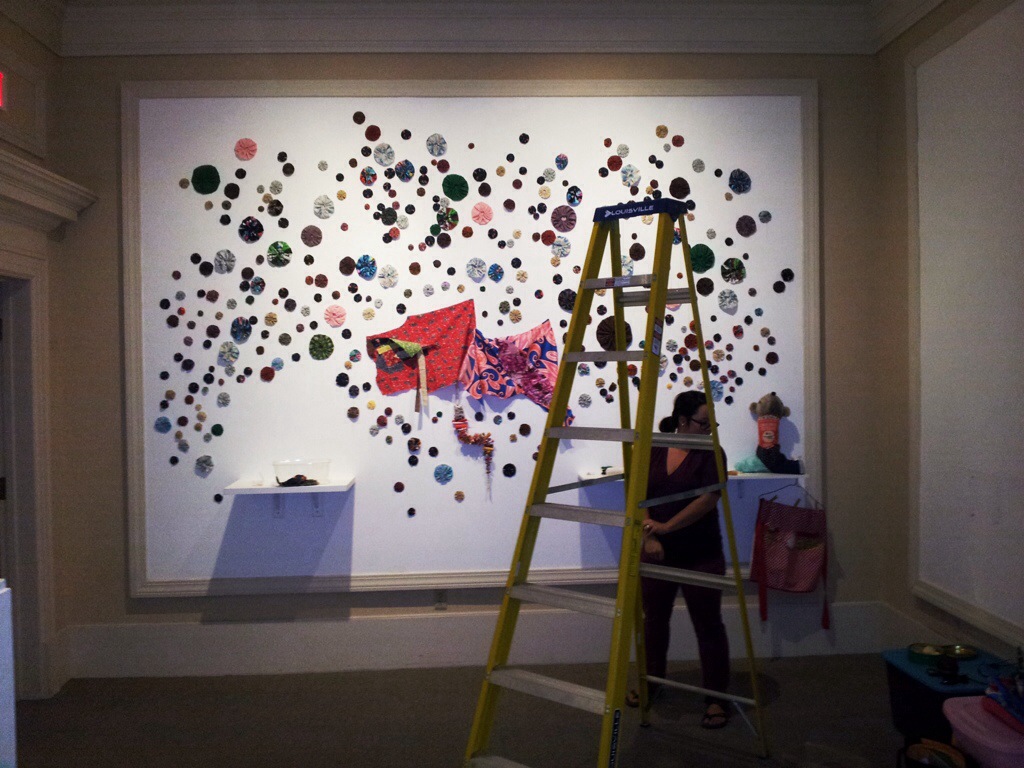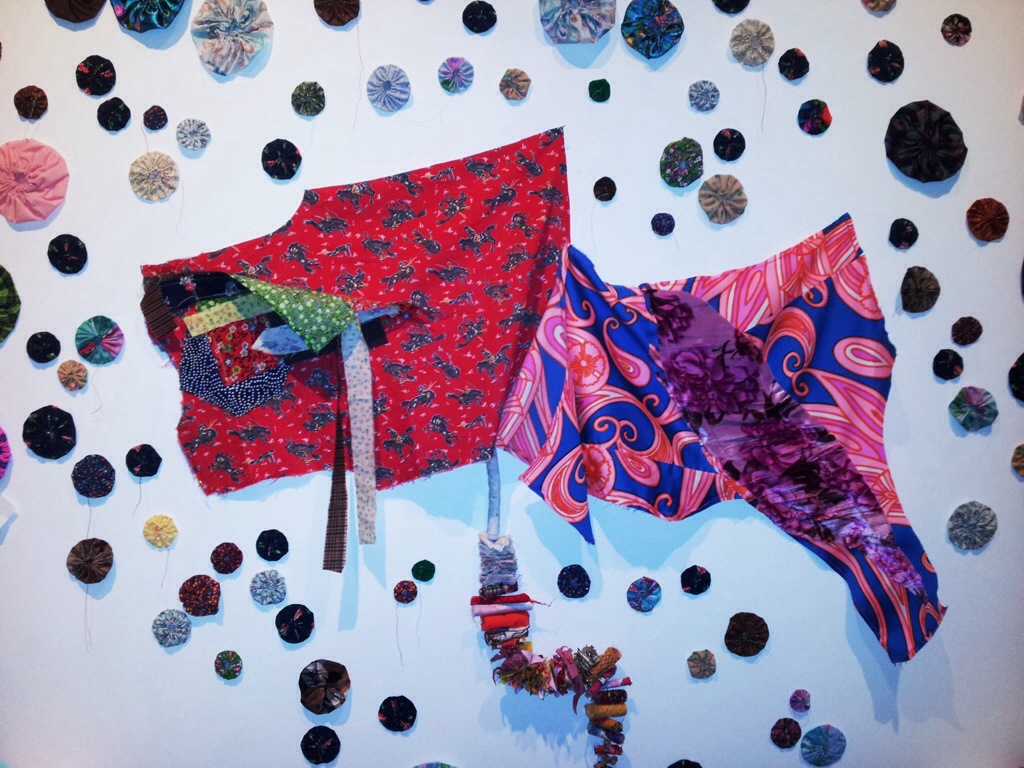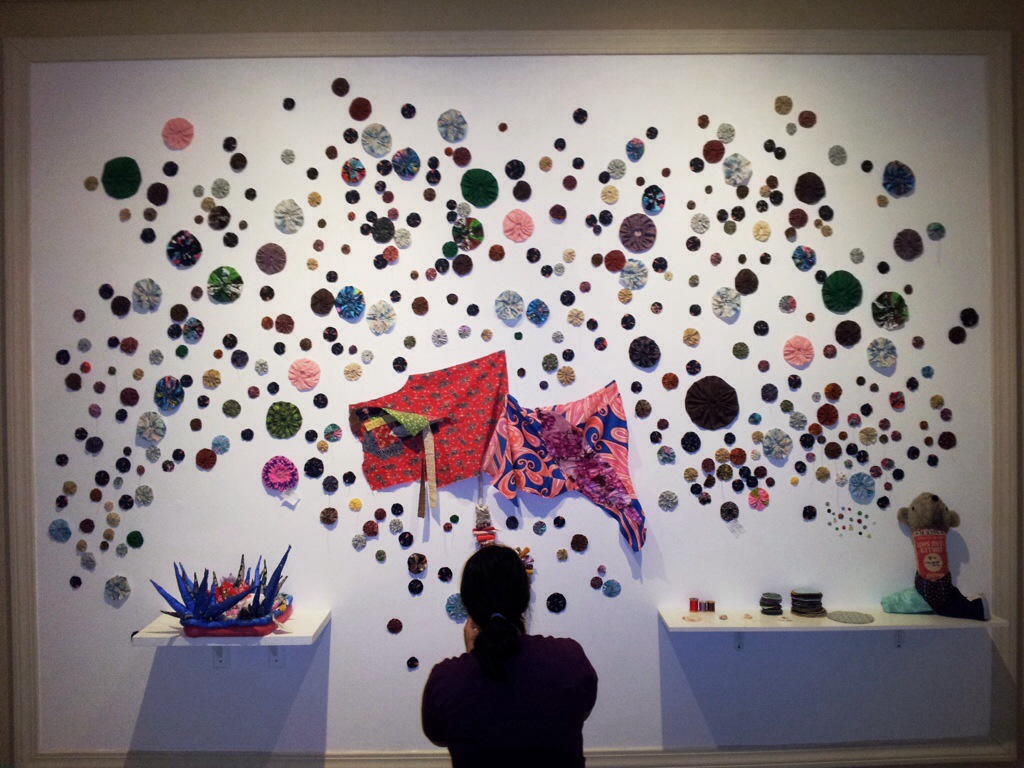 The spiky pillow was created by Karin Hodgin Jones. She received a kit with the instructions you see pinned to the pillow. Helen Jeu left those instruction in a baggie with the fabric Karin used to make the spikes and other details. I think Karin enjoyed getting this package of materials with ambiguous instructions. I think that joy is an important part of this project. I spoke about the difficulty I felt in the first 2-3 years after graduate school in the quick artist talk at the opening. I talked about how difficult it is to find a direction and to make work without the eyes and voices of other artists around me. I think this kind of collaboration is a viable strategy for generating work in those slow and paralyzed periods.
My original plan was to arrange the project as a mini-show inside a bigger show. I saw my role as a curator of this 12′ x 10′ space, and lucky for me, the actual curators of the show let me operate in that way. Both the curator and gallery director were very supportive. When I got into the gallery, I decided to use the wall as a drawing space. I had all these small fabric pieces I had made (really just small quilted collages), about 600 yo-yo circles, and two pieces that sort of stood on their own as individual works (the necklace Intentions of an Anonymous Quilter by Kristi Rae Wilson and the pillow by Karin). And a strange little bear. And a stack of cut fabric for visitors to make more yo-yos. Again, PANIC. I just had to start putting things together in a way that made sense to me and for the space. I don't know if I would always want to present the project in this way, but it looked beautiful in this particular space because of the location of the entrance (to the right) and the height of the ceilings. When the show goes to Nashville, I think a more traditional presentation might make more sense.
The gallery director was great in letting me label the work on the wall in a very specific way. I was able to acknowledge everyone who contributed to the project as well as their specific contributions. Let me go ahead and send out a collective shout-out here, too.
From left to right in the wide shot of the wall:
Pillow
Karin Hodgin Jones
I did the draped fabric things and I'll explain those in a minute…
Intentions of an Anonymous Quilter (necklace)
Kristi Rae Wilson
I did the bear. Best thing ever…
The yo-yos! Terry Barnes, my lovely mother-in-law and the Tuccelli crew made about 200 of those things! Martha Webber, dear friend, did her fair share and added some of her own fabric from unfinished projects. I labeled the yo-yos with her handwritten notes which she included in the package she sent back to me. My fantastic work study student, Lauren Tidwell, brought me a grocery bag of them, like, two days after she got the fabric. I made SOME, but honestly, I had planned on finishing up the scraps that came back and not much came back! It was amazing. I had no idea I would get some many back from everyone. I shouldn't have been surprised. I am well loved and supported. Finally, I was happy to pin up the teeny-tiny yo-yos that were actually made by Helen Jeu. Those are the ones I am pinning up last in a couple of the pics.
Back to those draped things. I have several incomplete garment patterns in the materials from Helen Jeu. The blue and pink fabric is part of a vest. I found the two front sides, but no back. They were still pinned to the freezer paper pattern and the note, "Cut 2 from quilted patchwork" was attached. I followed those instructions literally instead of trying to cut a back and make a wearable garment. Same thing for the shirt back. It occurs to me now that I could have tried to make them both into one garment, but I didn't feel like that was right somehow. It did feel right to use them as collage surfaces.
I didn't end up installing all of the smaller quilted collages I made in the course of the month I spent piecing things together that were specifically for the show. They didn't have any instructions with them, so they seemed too different from everything else. I think they will make more sense to me later. I imagine they will end up becoming part of one thing, like a larger quilt or drawing.
I also didn't end up installing Keeley Murray's lovely embroidered apron. When I went back to my notes for From My Home to Yours, I realized I had composed her kit from my own unfinished materials and not Helen Jeu's materials. So, I decided to save that piece for a time when I could showcase From My Home to Yours as separate project. And, I use the apron everyday. I would stain myself.
The show at Kresge will be up through the rest of October. It travels to a commercial gallery in Nashville in November. I'll write more after that leg is complete. I am learning a lot from working in this way and I am really enjoying it. Thank you for reading.