A-Z: Records and regret
A-Z encompasses the remaining alphabetized collections of my father. The project treats these collections as creative work and seeks to understand them as such.
Regrets. His VHS collection of illegally recorded movies, a veritable archive of every new release circa 1981 to 1999, was given away. The collection of maybe a hundred or so mixtapes were also given away. I searched desperately for the lists he made so I could at least record the contents of the collection, but they were thrown away. He had used some kind of ledger paper filched from the office that had numbers running down the left side and thick 3 point lines running across from the top to the bottom.
He would add the numbers he needed as his collection grew. I know for certain he was in the 4-digits before he stopped making the tapes. He would squeeze three or four movies onto one VHS, so he would list them on all on the same numbered line, using diagonal lines to separate the titles. The tapes that had a lot of kid's shows recorded out television had nine or ten titles squeezed on all one line.
Some of the titles were almost to small to read. He would number each VHS with the stickers that came with them. His favorite to use were black with a rainbow band running across the center of the spine. He used the top stripe to center his stickers perfectly. Sometimes he asked me to do it since my fingers were so small.
The new releases came out on Thursday nights at the Family Video on Mara Lynn in West Little Rock. My dad bought packs of rental punches like some people might buy lottery tickets or bus passes. This was so he could rent every new release. Every single one. That meant that sometimes movie night was two or three movies (or four), starting around 7 pm and stretching into the wee hours of the morning. On a school night.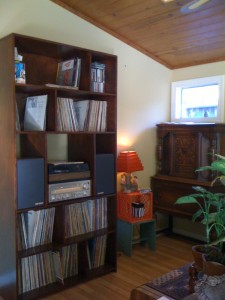 I have his records. He never kept a written index of his record collection, but they fall within the scope of the project because they were alphabetized. We play them, clean them as we listen through, and put them in paper sleeves and plastic.
Leave a Comment
You must be logged in to post a comment.